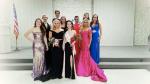 Want to donate with a standard paper check? Click Here to download the donation form to be sent with your check.
Hi, everyone!
This is Katarina Nguyen, 2018 Miss Madison-Capital City! In a few short weeks, I will be competing for the title of Miss Wisconsin.
As you already know, I'm very involved with the Miss America Organization but you probably didn't know that one of the exciting opportunities this organization offers is the chance to raise funds for local children's hospitals through Children's Miracle Network Hospitals. The money I raise will help save children's lives, and a portion will also go to support the Miss America Scholarship Fund.
Children's Miracle Network Hospitals makes sure that donated funds stay local which means that your donation helps kids and families right here in our community. I invite you to join me in touching the lives of sick and injured children today, by clicking the "Donate Now" button to make a secure donation. You can also see the impact of your donation by clicking here to view some of the incredible miracle stories from kids we've helped. These are just a few stories out of millions of kids treated at Children's Miracle Network Hospitals each year.
Any donations that you make will be recognized in a Thank You video that I will make before the Miss Wisconsin competition and via social media. If you donate over $20, I will also send you a signed pocket photograph. For those who donate over $50, you will receive the above as well as a personal handwritten letter from me. In addition, these donations are deductible!
Thank you so much for your support and for helping me make miracles happen! Here's to furthering medical research, children's hospitals, and community awareness!
Katarina Nguyen