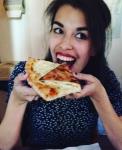 Want to donate with a standard paper check? Click Here to download the donation form to be sent with your check.
Hello!
I'd like to first thank you for taking the time to visit my page.
As many of you probably don't know, I recently got involved with the Miss America Organization... but you probably DIDN'T know is that the Miss America Organization is fortunate enough to be able to team up and help raise funds for local children's hospitals with Children's Miracle Network.
Children's Miracle Network Hospitals makes sure that donated funds stay local which means that your donation helps kids and families right here in our community. I invite you to join me in touching the lives of sick and injured children today, by clicking the "Donate Now" button to make a secure donation. You can also see the impact of your donation by clicking here to view some of the incredible miracle stories from kids we've helped. These are just a few stories out of millions of kids treated at Children's Miracle Network Hospitals each year.
Thank you everyone who has contributed to my pageant journey thus far! I would not have gotten this far nor would I have been able to have the opportunities to learn t he knowledge and skills I have gained in this system without all your support!
xoxo,
Christine :)