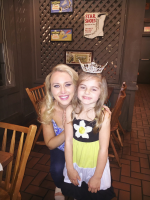 Want to donate with a standard paper check? Click Here to download the donation form to be sent with your check.
Hi there! I'm Alissa Anderegg: a California girl, recent Duke graduate, singer, reporter, Alzheimer's advocate, and graduate student at Northwestern University!
As some of you may know, I have been a Goodwill Ambassador for the Children's Miracle Network for the past four years. After winning a local Miss America competition while at Duke University -- and knowing that Duke Children's Hospital is a CMN affiliate-- I decided to meet for coffee with one of the directors of the hospital to find out what I could do to help the cause and continue to strengthen the partnership between Duke Children's and the Miss America Organization. It was an eye-opening conversation where I left with a new appreciation of the importance of this partnership and CMN's role in children's health care across the country. I was especially excited when I was told about the upcoming Radiothon fundraiser where families of Duke Children's would be raising money for the hospital.
One night that semester, I took a much-needed break from paperwork, studying for finals, and preparation for moving out of my apartment to meet with an adorable, INCREDIBLE five year old, Gracie Ray. Gracie Ray is a patient at Duke Children's Hospital where she is being treated for a Chiari I malformation. I am thrilled to be part of "Team Gracie Ray", especially after having the chance to meet with her family for dinner. She is truly an inspirational little girl. Even with all she's been through, she is outgoing, vivacious, goofy, bubbly, and incredibly intelligent (seriously! She had just started kindergarten and already had the vocabulary of a child twice her age!). I know we will be friends for a very long time.

That's where YOU come in! You can help make miracles happen for children like Gracie Ray across the country. No donation is too small, and you will be supporting a cause that means so much to me. Thank you in advance for your generosity, and please let me know if you have any questions.